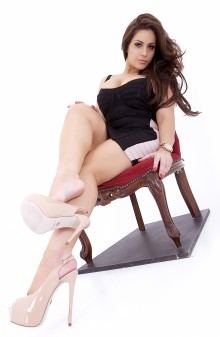 Goddess Jasmine Jones
The day you have been dreaming about is here... I have arrived. I Jasmine Jones, Goddess Jasmine to you losers! I am an exotic looking humiliatrix from London UK here to control every aspect of your pathetic existence. I am beautiful, educated, elegant, and in every way superior to you.

I have long dark hair, smoldering brown eyes and petite 5ft 1inch but don't let that fool you, your addiction has only just started! My time is valuable and time is money (YOUR money, to be more precise)

I adore humiliating, dominating, using and blackmailing little sissy, addict losers like you while you worship my perfection from my long jet black hair to my perfect petite feet. I am here to bleed you dry, rape your wallet and make your decisions and control your every move. Your ass is mine now.

Countless messages professing your undying love for me are boring and will receive no reply unless of course you accompany your message with a satisfactory tribute and a detailed description of how you can serve me further.

WHAT I REQUIRE FROM YOU PATHETIC LOSERS:

1. TRIBUTE ME with YOUR hard earned CASH
2. SPOIL ME with a GIFT (choose from my wishlist)
3. PAY MY BILLS (rent, utilities, shopping, holidays, beauty treatments.... The list goes on)
4. BUY my used items (Sweaty gym socks, stockings, panties, shoes)
5. KEEP ME ENTERTAINED in a webcam show
6. SERVE ME FOR REAL (clean my house, worship my feet, run my errands - Only available to proven, loyal subs)

Get on your knees ADDICT, open your wallet, and prepare to give EVERYTHING up to me... While you thank me for the privilege!

Ignore the wife, the girlfriend, forget about that car you wanted. From now on I am your Bank Manager and I'll decide!

So douche bags... sign up NOW, introduce yourself, then start re-financing your assets!
Financial Domination
I thought i would add this part as a few of you guys seem to get mixed up with everything, so this spells it out clearly for all of you and event the dumbest of jerks can understand this. So read properly.

I am a spoilt and extremely greedy Financial Domme. I love everything about it and nothing makes me more happy than getting everything i want! haha. It makes me very happy knowing that I do not have to pay for anything whilst you are out, slaving away, working all those long hours ready to hand over your hard earned cash to ME! Buying me gifts such as Desinger heels to mundain everyday items such as cooking utensils and even dog food ha. Even my bills and beauty appointments are paid for by YOU! You work hard to make sure i have everything that i want. I love looking around my house, even down at the clothes i wear knowing that i didn't pay for any of it...it makes me very happy indeed! All i have to do, is click my fingers and i will have whatever it is that i want.

Now this is where i want to get things straight with you. Financial slavery, becoming my money pig is about you want to please me (your superior) as you do know that is the right thing to do, right? and even if it brings you lots of hardship, stress etc you do this to make me happy, dont you?! By me being happy it will then in turn make you happy, got it? NOW that is seriously the best achievement in life isn't it?! Now im glad we got that bit sorted.

I will find your weak spots which will enable me to toy with your emotions, manipulate you in anyway possible for my financial gain. I will have you wrapped around my little finger and you will be living your life for ME!

Nothing gets me excited as much as taking and taking and taking more and more and more from you! Now lets get started hey!